Levallois-Perret, July 9th 2020. Micropole, an international consulting and innovative technologies Group, specialized in Data and Digital Experience, has been awarded the HappyIndex®AtWork and TechAtWork® 2020 labels discerned by Choosemycompany.com.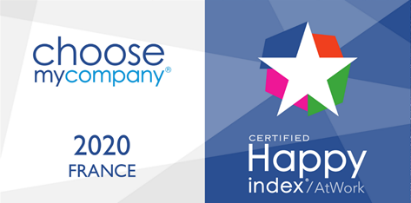 The Micropole Group renews its HappyIndex®AtWork distinction for the third year running. Through an anonymous survey sent to all co-workers in May 2020, the respondants eveluated six aspects: career development, stimulating environment, motivation and
With an overall grade of 4.08/5, 66.2% of the Group's #InnovativePeople recommended their experience at Micropole.
The Group also obtained the TechAtWork® 2020 label for the first time, an award which recognizes corporations within which the tech profiles are the most motivated and happy. These respondents evaluated Micropole on the same six criteria.
Obtaining these two labels is an undoubted boost for the attainment of the Group's strong HR and Employer Brand ambitions, leading notably to the integration of 350 new collaborators in 2019, in line with our stated objectives.
« We are delighted to obtain these distinctions which reflect the strong values of our #InnovativePeople. Inspired by their innovation capability and collective intelligence, we are implementing many HR and Employer Brand actions to enable our co-workers to evolve together in a solid environment which favors diversity, responsibility, co-creation and skills enhancement », explains Anne-Flore Le Gal, Human Resources Director of the Micropole Group.
With a renewed emphasis on human, collaborative and innovation aspects, the HR policy of Micropole aims for ongoing enhancement of its attractiveness and the partnering of its talents by placing its people at the heart of its transformation. And the results are clear: 82.9% of co-workers state that they are trusted, 81.6% that they appreciate the quality of human relationships within the Group, 79.3% acknowledge that they enjoy their work, and 72.2% feel that their work has meaning.